My Forever Big
…that's how Little Sister Saundra described her Big Sister Christie when BBBS Staff talked about closing their match. Saundra recently turned 18 and graduated from the BBBS program. She and her Big Sister have been matched for over 11 years!! Their bond has grown beyond the BBBS program and they plan to continue to see and talk to each other for the years to come.
Interview with Little Sister Saundra:
What is one of your favorite memories with Christie? Walks and we have a favorite ice cream place. It is called Tradition: by the Capitol. My favorite flavor is Madagascar Vanilla.
What is one takeaway that you will take from your time with Christie into your life beyond BBBS? How much time we spent together, how much fun we had, and the memories. The happiness and joy that I had.
Tell me something you have learned from Christie or your time together? I have learned a lot. I was 7 when it happened, so I have learned a lot together.
How have you changed? I got to do more stuff and learn more about what I want to do. Job-wise and life-wise; how I want to be. Job-wise I have always been inspired to be in the animal fields, working with animals. On my birthday every year, we go to the Point Defiance Zoo, so she has helped me figure out where I want to go--what path I want to take.
What has surprised you about Christie? I was surprised that we have so much in common at first. We both like nature, we both like going on walks; being outdoors rather than indoors, both love animals, we both like to do things like going to the beach.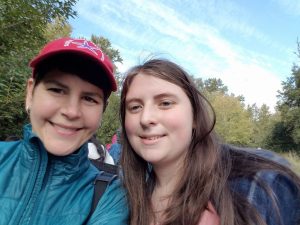 Was that unique, that you found someone with common interests? Yes, a lot of people I know don't like to do the same things as me.
What would you say to people who are thinking about being Bigs? Go for it. You can be anything you want to be and if you want to be a Big, it is such a fun experience, I would definitely do it. You learn a lot from it and the experience you take away from it is great.
What would you say to kids who are thinking about being Littles? Be nice to the Big. And don't go back on your word, definitely stick to the program because the connection you get is great, too.